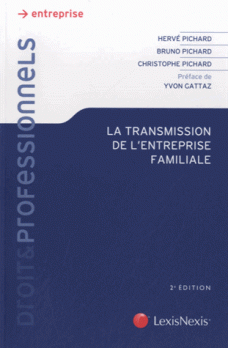 La transmission de l'entreprise familiale (The transfer of family businesses) – Second Edition – LexisNexis 2014
Family-owned businesses have at their disposal many tax and legal tools to facilitate their transfer.
Thanks to their experience, Hervé, Christophe and Bruno Pichard, partners of the legal firm Pichard et Associés, present these tools on a both technical and practical point of view with many exemples. They describe the Family Buy Out mechanism which they were the first to present. This process offers favorable conditions to the transfer of family businesses.
"Though the title of this excellent book is simple, its content is actually innovative and deserves the attention of family / legacy businesses leaders".
"This is a book technically demanding and easy to read at the same time. The many exemples that illutrates it are convincing. All family businesses leaders facing such problems should be interested in it. This book will greatly help them."
Yvon Gattaz, Member of the Institute and President of the Union ASMEP ETI – Medium sized companies
"Cession et acquisition d'entreprise commerciale" («Business acquisitions and sales») – Cujas Editions 2000